Horseshoe Bend
Page, AZ
You know when you're planning a trip and you [think] you're prepared, but when you arrive to your destination you realize just how much you underestimated mother nature? Welcome to my world.
STICK TO THE PLAN, STAN
My friends and I planned a trip to Horseshoe Bend in Page, AZ for the weekend. A week before going, I asked my friend Nikki to help me with a packing list. Her and her husband did a camping trip up the west coast and from their pictures you could tell they knew their stuff. So, she ended up sending me a few lists she found from Pinterest.
I automatically knew we were going to need the essentials - tent, air mattress, battery powered air pump, cooler, food, etc. But even after prepping as best as possible, I guess you're never quite ready for the road trip and weather conditions (completely).
HERE WE GO
We were on the road a total of 18 hours, about 9 each way with stops in between. We were originally planning on leaving North County earlier in the day, however, we ended up heading out around 7:30pm on Friday night. With the amount of traffic we ended up getting to our campsite at Lake Powell around 5am - Huge thanks to Phil & Evettte for driving ;)!
Honestly, I was so happy I got an air mattress and instant tent because set up was a breeze. Not to mention it was absolutely freezing so we all couldn't wait to set up and sleep before the sun came up.
Once the sun did, we got out and realized just how beautiful our surroundings were. The campsite wasn't exactly packed and we were the only kooks with a tent, but hey! At least there was free coffee and heated bathrooms - they also had an indoor pool & jacuzzi (cha-ching).
After cleaning ourselves up and getting ready for the adventures ahead, we had a little jam sesh and champagne toast to making it to AZ alive and well!
After the toast was over, we got in the car and headed to horseshoe bend!
The views are to-die-for. I understood then why a friend told me she cried when she went to the Grand Canyon. It's absolutely breath taking. The pictures just don't do it justice.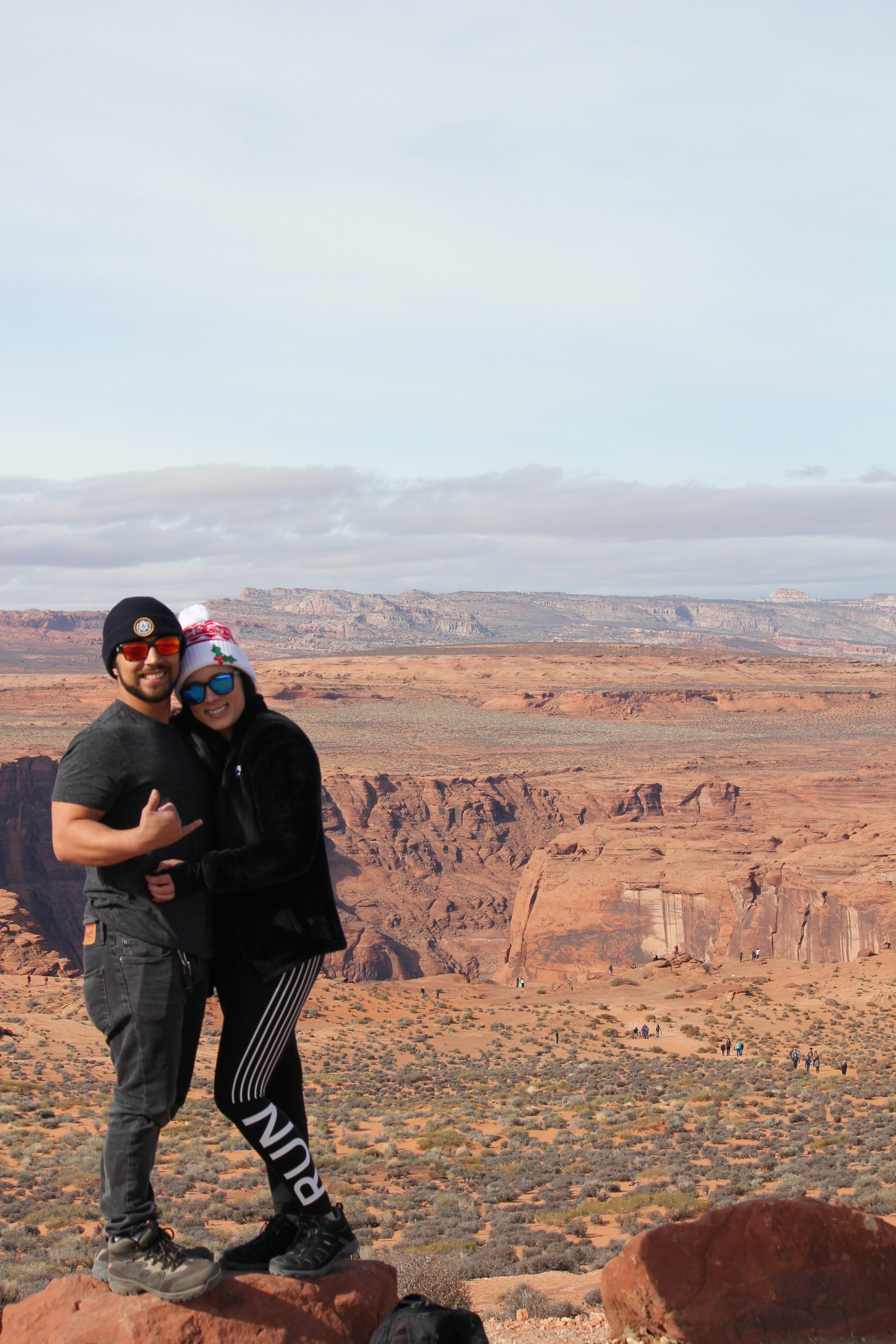 IF YOU OBEY ALL THE RULES, YOU MISS ALL THE FUN
We wanted to go off and do our own thing but most of the areas are fenced or you have to take a guided tour - which isn't cheap. Prepare to bring about $100 for the tour + tip. We decided to skip the tour and venture off on our own.
Phil brought along one of his guns; I can officially say I shot a gun for the first time on this trip! (Another check on the bucket list). We went off roading a few times and ended up in random fields. There were a few times where we could've, most definitely, gotten arrested for trespassing. But, heck. What's the fun in following the rules? I would love to say I was the one with the mindset of, "I do what I want", however, Evette takes that crown ;)
Later on, we headed back to camp and relaxed until the cold really started to settle in. We were set up next to a fitness center, so we decided to kick it in there for a few hours to enjoy the warmth. After we realized no one came by, we made a unanimous decision to camp out in the fitness center, lol. Yeahhh... that lasted a whole hour or so before a woman came in the door and looked at us like, "Well, this is a first". Needless to say, we had to nestle back into our tent and deal with the cold for one more evening.
On Sunday, we did a little hike around the campsite before we packed up and headed back home. After a few stops and some food in Vegas, we were home around 6pm that night.
The trip was short but amazing and exactly what we needed to get away from the rest of the world for a little while. Escaping into nature can be a beautiful thing, especially when you spend it with a great group of people.
-Samantha